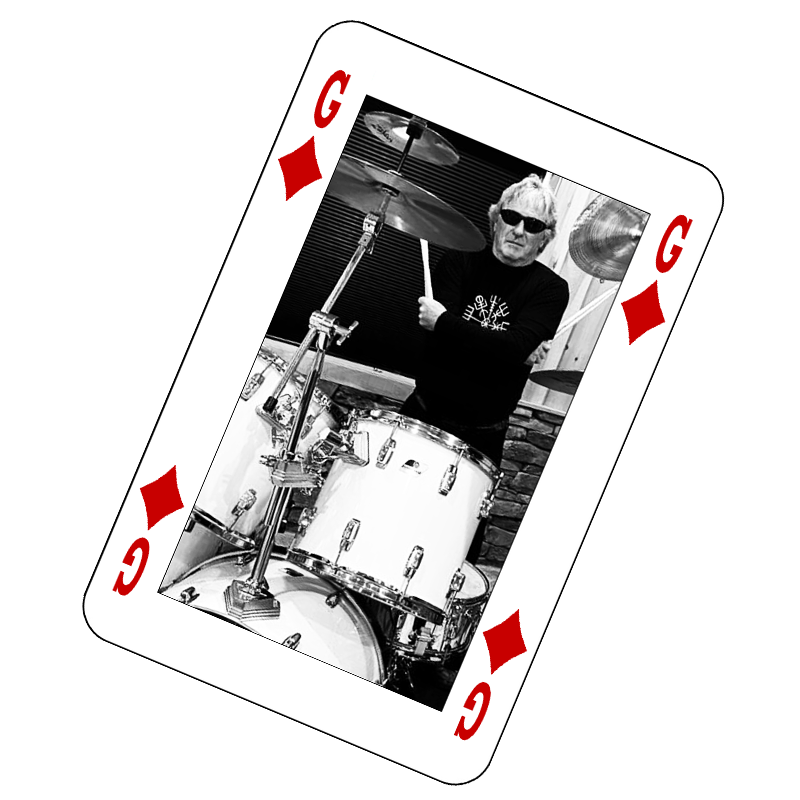 Bobby Gavin
Drums, Vocals
When I was growing up in the Bronx my dad had a cool set of Slingerland drums set up in the basement of our house. A lot of my friends really got into the music scene but it was not until my freshman year at High School that I met people who really played well and had equipment. I quickly formed a band and started playing live at 15 yrs old in some of NYC's venerable Greenwich Village land mark music venues. We played covers at first but my guitarist at the time and me started writing original songs, sharing thoughts on life and collecting ideas so we could put lyrics and music to them. 
When I reached my senior year we started to record in New York City studios so we could get familiar with sound reproduction and techniques of using effects. Although we kept a cover band on the side to fill in the gaps and continue to fund our own music studio bills it was not long before we were playing larger colleges up and down the East Coast. We would slip in a few originals to see the reaction of the crowds and also to hand out demo CDs to further our mailing lists and our fan base and shop them to different indie labels. 
It was at a gig in New York City that my old band was playing at when I met and heard for the first time Derek D.O. Olivero and Dave De Ranieri who were also on the stage that night. I was taken back by the driving sound of D.O.'s guitar the playing it was fresh, original and downright sinister in a creative way. D.O.'s lyrics for his songs that night were mesmerizing.  Dave was a very accomplished bass player and his attack really stuck me as a cross between hard driving licks and beautiful and sometimes poetic approach to note structures that really started my head spinning in a direction. Wow, I would really like to experiment my playing attack with what they were doing on stage.  I somehow had to figure out how to best approach them and see if they would at least jam at my studio in Brooklyn.  They already had a fine drummer but there was this sense of belonging to that creative force they had played that night that I needed to explore and be part of. 
The day came that we jammed and I already learned the tunes on their demo, so when we got together we really got done to business and played, driving the studio equipment to the max. Four months later with more jams and learning new songs, the light finally went off. But the lads were very loyal and very honest of their former drummer and fate came to pass, my old band took their drummer and I switched from my band to D.O. and Dave. So the journey started, the new music and recordings never stopped as we developed a unique sound for 3 guys. Years later as we first set foot into Dreamland Recording Studios just to play the room and meet who would later became our producer and our friend, the man himself, Jerry Marotta. I do remember the first thing he said to us after we ran through one of our songs, I believe it was "Young Love", he came over to us and said "geez for three guys you sound like a tsunami coming into the building". I guess he approved! 
The rest is music history and a dream come true to suit up on stage and play with such talent as these two musicians and best friends. We all have added our mark on the music and it shows drive, passion, creativity and anything to anyone with an ear to listen too. There is something for everyone to enjoy and get down with the momentum and drive of OGD. 
All this comes with the age old question of "what influences in music formed you're playing style". For sure the drive of Jon Bonham and even his son Jason are a big part of it. Then I also liked the more techie side of Phil Collins on some of his accents over the years he perfected especially how he used cymbal management and experimenting with different sizes and shapes. For sure all the original bands I played with influenced me a ton as they all were different, they all had a form of creative writing, some driving, some a bit prog but it was all a well-rounded experience. 
For the techies out there I use Ludwig custom over size drum kit, actually double 24 inch bass drums, 4 mounted toms, 2 floor toms and 12 cymbals of various sizes. What I do now is use one kick with double Tama Iron cobra pedals, 3 toms and two floor toms. Cymbals are by Zildjian and my choice of sticks is Vic Firth 2B nylon tip.