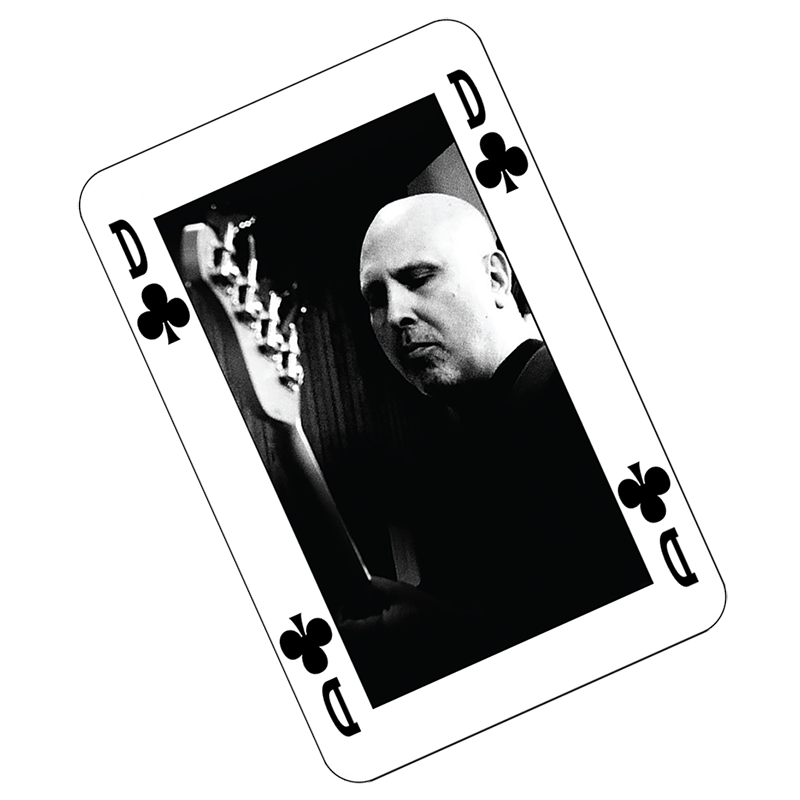 Dave De Ranieri
Bass, Vocals
Dave is from Brooklyn, New York. 
Dave and Derek lived on the same street a few houses apart. 
Music was everywhere, and Rock was everything. 
Elton John albums were the first ones bought with money earned from odd jobs. Dave considers Dee Murray a big influence. "I love Dee Murray's bass work. Like James Jamerson on the great Motown songs, I heard the bass constantly, and realized the greatness later." 
The heavier rock bug bit hard when Derek and Dave came upon a jukebox that featured Four guys in make up. Kiss Destroyer changed the game and inspired Dave to pick up the bass. 
The rock bands of the 70s loom very large. "The Who, Led Zeppelin, Jethro Tull, Kiss, Alice Cooper, Queen, Aerosmith, Rainbow. Journey, Thin Lizzy, Starz, Heart as well as Pink Floyd, Procol Harum, Yes, and then, at a flea market album booth, Rush! All the World's a Stage and Hemispheres. Discovering Rush was another game changer. Then UK, just wow, what a band! John Wetton, so good!" Peter Gabriel Plays Live. Stevie Wonder!" More Progressive Rock, Fusion, Jazz... Weather Report with Jaco on Bass!" 
The inspirations are many and varied. The live shows Dave has seen most are Rush, Peter Gabriel, and Pat Metheny. 
Dave and Derek were childhood friends, but started their musical partnership at 12 years of age writing and playing original music and jamming from the beginning. 
Their earliest bands played and recorded in the legendary Attic. 
Their first band to perform live at a music venue was Tempus, a three piece. 
Writing and playing originals continued as well as playing cover songs in different bands. 
Dave and Derek were recording and performing throughout Brooklyn and Manhattan under the name Outland. 
Dave recalls meeting Bobby. 
"We met Bobby at a gig at one of the famous venues on Bleecker Street in Manhattan. Bobby's drumming was exciting and aggressive. We already had a great drummer, but the band was not getting anywhere. Bobby made an introduction and we talked a few weeks before we got together to play. The energy and chemistry took the music to another level and a more aggressive direction. 
We worked hard and rehearsed often. We have been playing, recording and have also been friends ever since. 
Dave has studied Piano, Guitar, Drums, Upright Bass and still studies bass and music with Charlie Sabatino and Ron Smith. 
On the OGD The Big Game album: 
"I'm thrilled with the OGD album. It was amazing to work with Jerry Marotta who I listened to and admired for so many years. We all did our best to do justice to these songs. I love albums you want to hear without skipping a song. I think we achieved that with The Big Game." 
"The Album art work is beautiful. The cover draws you in, and the images inside reflect each song. Hugh Syme did stellar work and that is yet another thrill, as I've been admiring his work on all my Rush album covers for years. Now he's done our album, The Big Game!"